When it comes to tablecloth fabrics, at Tablecloth Designs, we pride ourselves on our wide selection of tablecloths in a variety of sizes, shapes, colors, fabrics, styles and more. We believe every table deserves to be well-dressed for the occasion at hand.  Despite all we have to offer, we understand when it comes to tablecloths, most people don't even give them a second thought….until they actually need them. Events such as parties, family dinners and weddings give you the opportunity to dress up your tables, so it is important to know the atmosphere and occasion for which the tablecloths will be used.  The primary use of tablecloths is to protect the tables from wear and tear, but they are also used to add style to the tables and to overall ambiance of the room.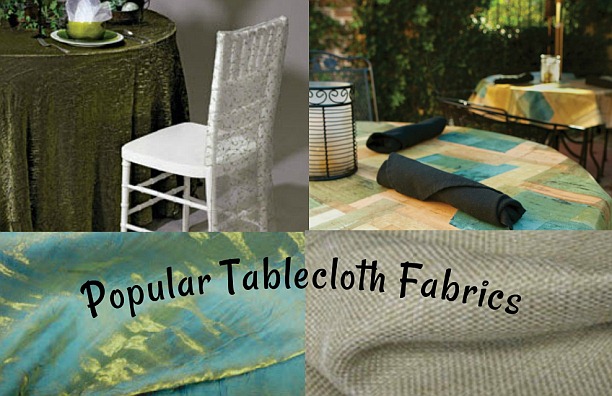 With so many tablecloth fabrics to choose from at Tablecloth Designs, how do you know what's best for you, your tables, and the occasion at hand?  We can offer some guidelines and then you can choose from our vast selection of tablecloth fabrics styles and designs.  If you still need help, we are more than happy to assist.  No matter your question, we've got you covered!
Fabric types
So let's talk about cotton. This one of the most popular materials for tablecloths, especially when it comes to everyday use.  Because the material is easily manufactured, the cost of cotton tablecloths tends to be relatively inexpensive. Some tablecloths even come as a cotton/polyester blend. The down side to cotton, is that it does wrinkle and shrink easily. For this reason alone, we don't offer tablecloths in cotton or natural linen materials. Our Cott'n-eze spun polyester has the look and feel of cotton, but it is easy to care for.
If you are preparing for an outdoor event or occasion, it is best to consider vinyl tablecloths.  These offer great protection against rain damage and are easy to clean when something is spilled on them. Bear in mind, however, that vinyl is more of a casual material so it probably wouldn't be your best bet for any formal occasion you are planning. They do get a lot of indoor use though since they are easy to clean. For this reason, we sell a lot to restaurants. The commercial quality of our vinyl tablecloths will hold up to daily cleaning and use.
Similar to cotton, polyester offers many of the same advantages, but it is easier to maintain. However, it does emphasize appreciable shine and silkiness unless you opt for our Cott-n-eze Spun Polyester. Polyester can also be used for more formal occasions without putting a big dent in your wallet. Woven or Spun Polyester tablecloths perform best in the kitchen, breakfast nook or outdoor seating areas. Basic Polyester materials are used in our basic plain tablecloths to our beautiful Damask and fancy tablecloths.
Another popular fabric option
If you are going for a more rustic look and feel, you may consider covering your table with a burlap or a faux burlap tablecloth. Burlap runners are also popular. The faux burlap will offer you a similar look without the earthy odor, rough feel, shedding, and cleaning problems.
Ahhhh…then there is silk. This is definitely a martial ready to take the stage at formal events and is perfect for weddings or anniversary celebrations. Yes, it does cost a bit more, but the luxurious look and feel it provides is definitely worth the added expense. Silk tablecloths are quite impressive. Remember, however, silk is a delicate fabric and will require extra care and attention, especially when it comes time to clean and store the tablecloths. They normally would require dry cleaning.
Unfortunately, here at Tablecloth Designs, we do not offer real silk. A lot of our fancy fabrics do offer a similar appearance without all the cost and maintenance.
We welcome you to shop around our site and get to know some of the fabrics, styles and designs we have at Tablecloth Designs. This is the place where we've covered just about everything!