Custom Tablecloth Sizes, no problem
Our website has our standard sizes ready to order on-line, but it isn't set up for ordering custom tablecloth sizes. Feel free to call or email us for a quote. Custom sizes will need to be ordered by phone.
Custom sizes are any size or shape that isn't listed on the site.  We can make them any size, but there may be seams if your required width is wider than the goods we have to use.
Custom tablecloth sizes for odd shapes
If you want a cloth to fit your odd shaped table and have the same exact drop all the way around, we would require you to submit a pattern of your table using our pattern instructions and we will charge an extra one time $75.00 template fee. We do keep your patterns on file for future orders. All vinyl ovals will require a pattern.
Here is a link to our pattern instructions page.
Give us a call or e-mail and we would be glad to help you out.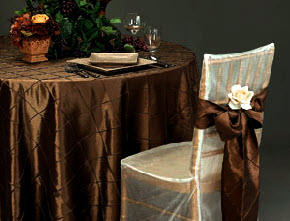 Cloth Tablecloths are the staple in most houses restaurants, and hotels. The softness of the fabric is comfortable to your skin plus they provide a layer of protection to the table in the way of scratches. Cloth Tablecloths and Vinyl Tablecloths come in a wide array of colors and textures. You can change the look of your table over and over.
Vinyl tablecloths and cloth tablecloths can bring new life to any drab table and come in various custom tablecloth sizes. The vinyl tablecloths that we sell are heavy duty commercial grade that will last for years. Our 6 gauge 7100 series, 10 gauge 9800 series vinyl tablecloths and  13 gauge 6100 series Vinyl Tablecloths are much heavier than the vinyl tablecloths you buy at the department stores. They all have a poly felt type backing to them and will provide years of service to you and your table.  Vinyl tablecloths are very easy to care for. You can just wipe them clean with a damp rag. We offer our custom size tablecloths in any shape and size.
Vinyl Tablecloths can also be used to temporary protect the finish on wood tables, however it is not recommended to leave them on for months since they can soften some older nitrocellulose lacquer finishes. The newer more durable finishes usually are OK. What may happen, is the plasticizer that keep the vinyl pliable, may leech into the tables finish, and soften it. If this happens, the only way to fix the table is by having it refinished. There is no way to harden the finish back to original. For more useful furniture tips, I would recommend that you check our our other store on the internet www.furnitureknowledge.com. Here is a courtesy link to our tip archive!