Outdoor tablecloths are our specialty.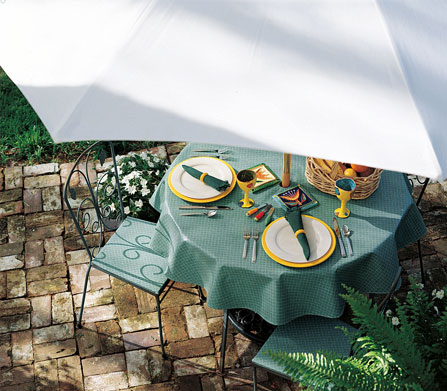 Click on tablecloths in the menu above to see all of our vinyl tablecloth selections.
Outdoor tablecloths made from our vinyl fabrics are a great way to spruce up that outdoor patio furniture! When it comes to the outdoors, you have to deal with a different environment than you have indoors. Wind is the main problem when it come to using outdoor tablecloths. To remedy this, we can sew in an elastic band on round and oval tablecloths or sew in a pull cord for square and rectangle tablecloths. The elastic doesn't work well on squares or rectangles because it will be tight at the corners, but loose through the middle just like the fitted sheet on your bed. The only problem you have with the elastic or draw cord, is that you don't have a formal drop like you would with a regular tablecloth.
The other outdoor elements you have to deal with when it comes to outdoor tablecloths are sun and rain. The rain won't bother the vinyl tablecloths like it will cloth tablecloths. If it gets dusty or rain spotted like your car does, simply wipe it clean with a damp cloth. As far as the sun goes, the colors can fade after a years use, and the vinyl can lose some flexibility. Armor-all type of  spray protectors that you buy for your cars can offer a degree of UV protection, but you the best thing to do is avoid the daily exposure and only put them out in the sun when needed. Indoors they will last many years! Our vinyl tablecloths can be made with or without an umbrella hole. If you choose to add an umbrella hole we charge an additional $8.00 and you can order it that way online! Please call if you have any questions about this product.
Outdoor Tablecloth
made with our 6109 Series Vinyl
Outdoor Elasticized Tablecloth
made with our 6120 Series Vinyl
Feel free to visit our other useful websites.
www.furnitureknowledge.com
www.tablepadsdirect.com
www.moderndaybidet.com