If you grew up in the 60s, 70, 80s or even the 90s, chances are your grandparents (or most anyone in the generations before you) traditionally dressed their tables by using tablecloths, no matter the meal or the occasion. In fact, in my family, it was quite rare to even serve a meal without dressing the table first. And often, if you personally weren't dressed for the occasion, you were sent back to change until your attire was approved.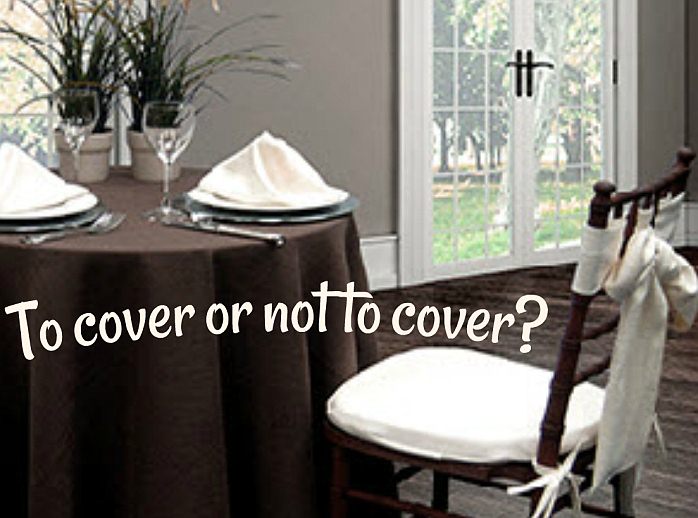 Fast forward to the kids of the 2000s and beyond.  Mealtime in my own home meant either grabbing something out of the pantry or standing at the counter to inhale a few bites of something before dashing off to whatever it was that was more important than meal time. I confess. I kind of miss the downtime that regular meals offered us as a family growing up, and I think the tablecloth had a lot to do with that tradition.  Back in the day, using tablecloths was part of the meal time preparation, but today, they tend to offer so much more.
You may ask yourself, "Is it important to cover a table or should I just leave it exposed?"  Well, the answer usually rests in the state of the table. A nice tablecloth can certainly improve the overall look and appeal of a table that is showing its age.  A perfectly-made tablecloth such as those offered at Tablecloth Designs, can even add a bit of elegance to the occasion, say, for a special event, like a nice dinner party with your family and friends.
A great tablecloth can add much-needed texture and color to a tablescape.  Even a basement-grade folding table can gain great strides in appearance with a simple tablecloth!
A few ideas to consider when choosing your next tablecloth from tableclothdesigns.com:
**A French country pattern can soften the ambiance of the tablescape and add a somewhat festive appeal to your special occasion.
**Picnic tables, whether used indoors or outdoors, can enjoy a fun tablecloth to add to their charm and appeal. While you can certainly entertain at an indoor picnic table with simple napkins and placemats as the main décor. That outdoor picnic table could probably use a fun tablecloth design to hide any of the weathered outdoor grime. Be sure to check out our selection of checks, stripes and plaids.
**Do you want more of a romantic, country vibe to your table setting?  Gingham just may be the answer. Opt for a shorter tablecloth allowing the legs of the table to show for that extra pop of country whimsy.  At tableclothdesigns.com, we have some amazing custom prints that can help you create the look you desire.
Not sure if you want to hide the entire table?
Opt for a wide table runner instead.  This can add the needed color, interest and texture without taking away from the beauty of the table underneath.
**If you are preparing for a more formal occasion, you may want to consider using floor-length tablecloths. Yes, we realize those floor-length ones can pose challenges when pulling up a chair, but the overall look they provide will serve to maintain the formality of the event.  We have some fancy cloth tablecloths that will expertly go to work for you here in this regard.
And, finally, we will have to agree with some of the experts out there that there are some beautiful tables that shouldn't be hidden by using tablecloths, but if you want a temporary new look for whatever table you are preparing, turn to the experts at tableclothsdesings.com. They've got you – and your tables! – perfectly covered!